---
This is a large collection of items acquired around the time of and during the Olympic Winter Games in Vancouver. There are many booklets and pamplets that were handed out to volunteers, officials, athletes and their support staff as well as collectible memorabilia souvenir type items for spectators.
I am willing to consider selling individual items separately but would prefer to sell them as lots as shown in the pictures or as one large lot with all items included. I am asking $1200 for everything shown in all 9 photos.
Items included will be listed following each photo. Some will include a short description but feel free to contact me if you have any questions or if you need more specific details.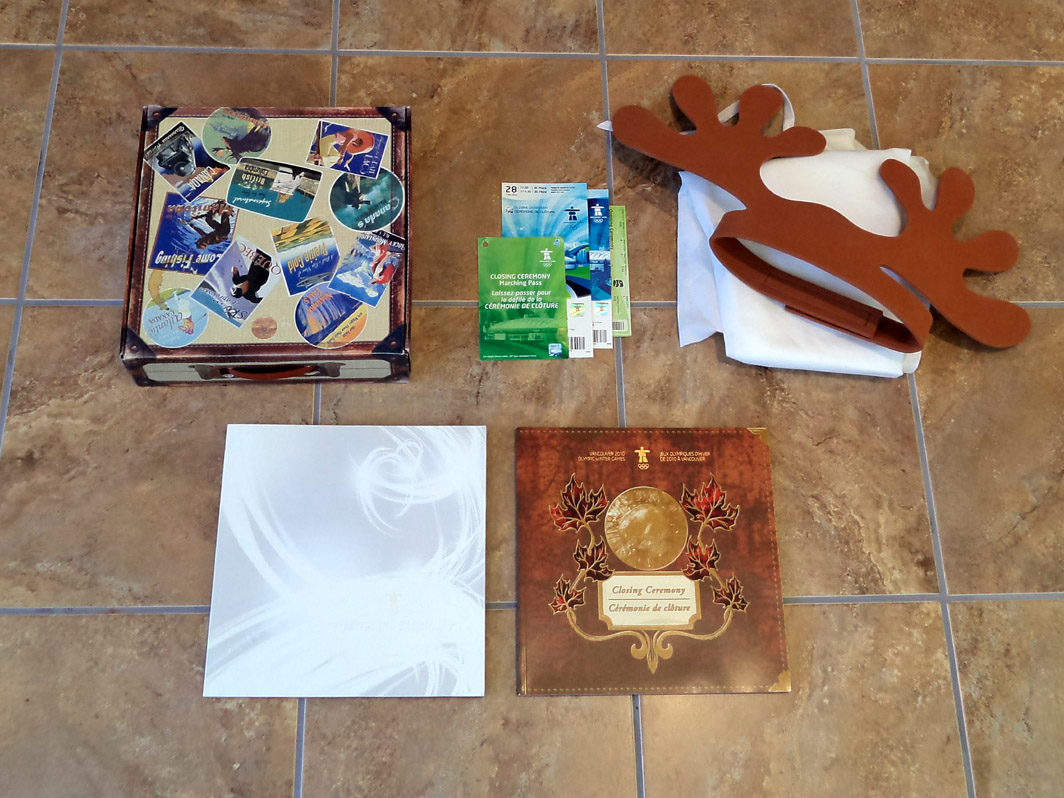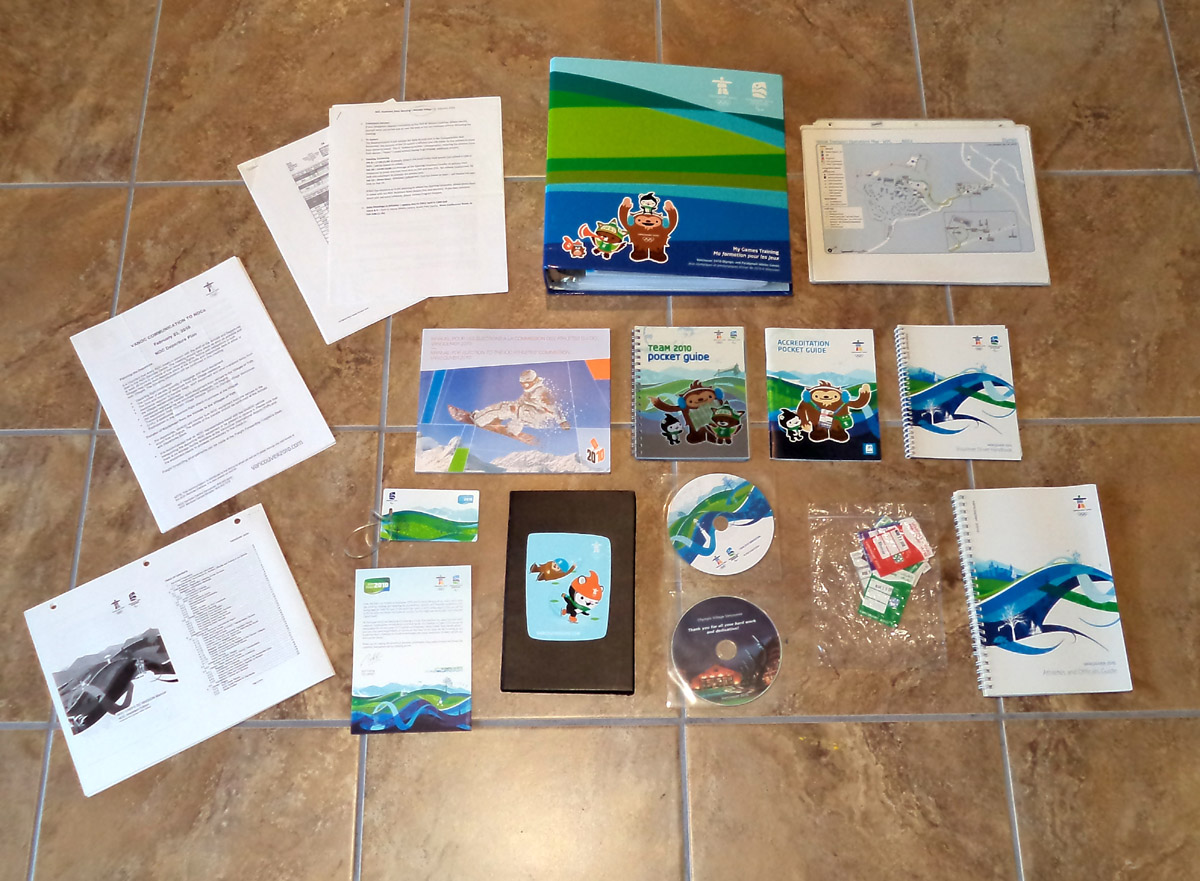 The items listed below contains some printed and/or photocopied material (not originals). Some of these are simple print outs or photocopies handed out to volunteers, organizers and support staff.
VANOC Communications To NOCs
– NOC Depature plan including flight information and travel from the Olympic Village
– NOC Mobile phone instructions
– NOC Assistants Daily Meeting Notes – Feb 7, 8, 9, 20, 21, 22
Photocopy of NOC Chefs De Mission Manual NOC Assistant Edition (64 pages printed double-sided, two pages per side)
Travel schedule for training and competition
– Whistler Olympic Village to and from Whistler Olympic Park, to Whistler Sliding Center, to Whistler Creekside, Vancouver Olympic Village to Pacific Coliseum, to Trout Lake Rink, to Richmond Olympic Oval, to Cypress Mountain, to Kilarney Center and Village to Village service.
My Games Training Binder filled with information and instructions handed out to volunteers as well as some extra location and venue maps in plastic covers.
Team 2010 Pocket Guide
Accreditation Pocket Guide
Vancouver 2010 Volunteer Driver Handbook
Vancouver 2010 Athletes and Officials Guide
– includes many fold out schedules and maps of venues
Manual For Election To The IOC Athletes' Commission, Vancouver 2010
Team 2010 luggage tag
A black notepad with blank pages and string clasp
8 Workforce Village food tickets – 2 grey, 2 green, 2 maroon, 2 red
Team 2010 Orientation CD – 2008 Vanoc
Olympic Village Vancouver / Thank you for all your hard work and dedication! CD sealed in plastic envelope.
Team 2010 John Furlong Card to Volunteers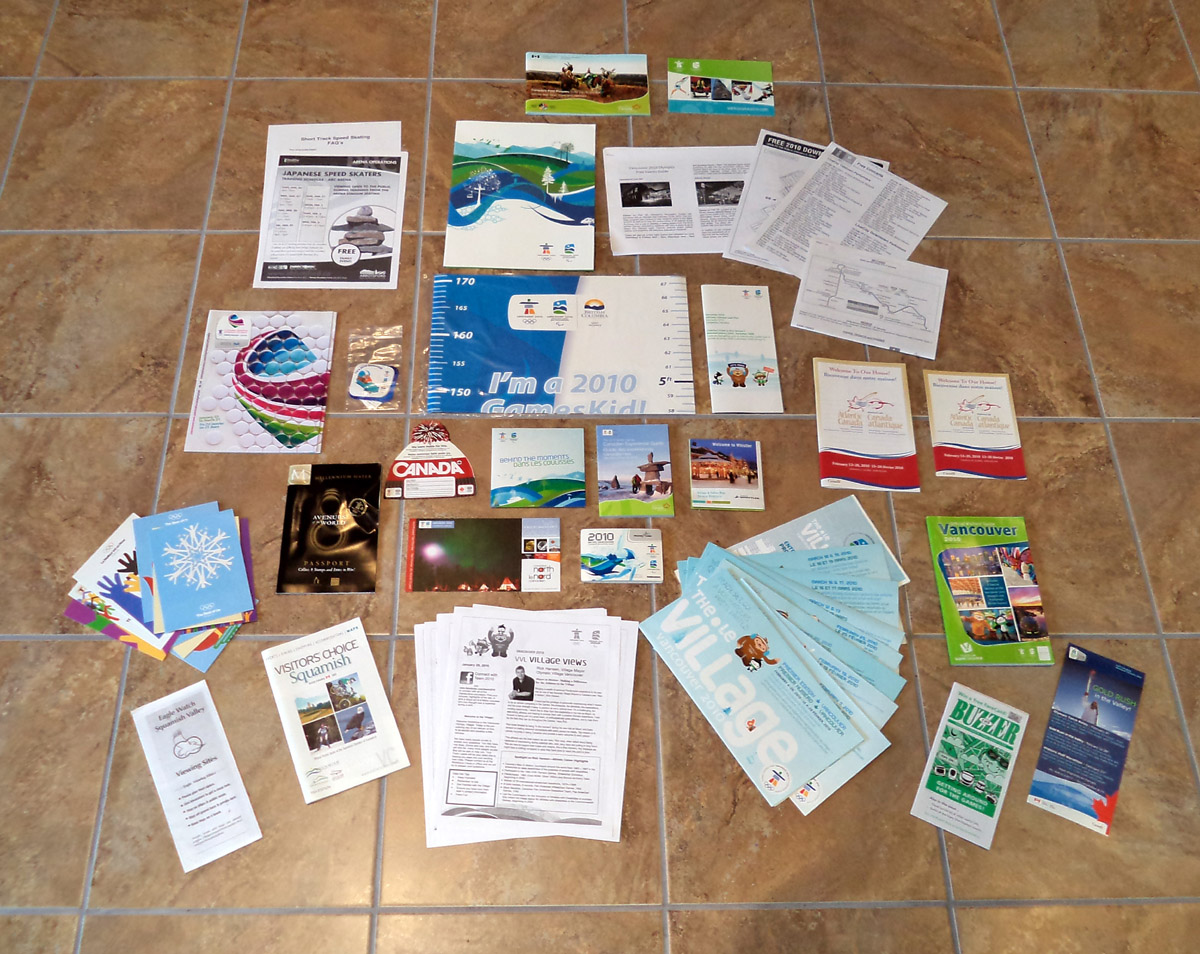 This lot also contains some printed and/or photocopied material (not originals).
Some of these are simple print outs or photocopies handed out to volunteers and support staff.
Print-out promoting training sessions by Japanese Speed Skaters at the ARC Arena and Russian Figure Skaters at the Abbotsford Recreation Centre
Short Track Speed Skating FAQ's
– with basic bio specs on 8 Japanese Olympic Short Track Speed Skating Athletes on the back
Vancouver 2010 Olympics Free Events Guide
A list of events and locations with dates and descriptions taking place including houses and pavillions from participant countries and territories in and around the host city.
Free Concerts
A list of dates with times for LiveCity Yaletown and Downtown Performers
Free things to do during the games
A list of events taking place in and around Vancouver
Free 2010 Downtown Activities
A numbered list that matches a location map on the back of events and locations including dates and times
Cultural Olympiad presented by Bell
January 22 to March 21
6 page fold out events calender
I'm a 2010 GamesKid! mascot decal/stickers – 1 large bob sleigh, 3 small hockey
I'm a 2010 GamesKid! fold out height measurement wall poster.
Vancouver 2010 Officially Licensed Lapel Pins
Collectors Guide to Pins Version 2
Released January 2006 – December 2008
Olympic Village Avenues Of The World Real Estate Brochure With Pin – by Millenium Waters
Small card shaped like a toque / fill out your name, city and message / Donate a dollar and send an inspirational message to our Canadian Athletes competing in Vancouver
Has the Hudson Bay, Canada and Vancouver Olympic logos
Behind The Moments – Video CD
The 2010 Winter Games
Canadian Experience Guide
10 olympic.org Postcards – The Best of Us / Le Meilleur est en Nous
Visitors Choice Squamish Official Vistor Guide – Tourism Booklet
Eagle Watch Squamish Valley Viewing Sites Pamphlet
Welcome To Our House – Atlantic Canada House February 13-28 Card and Booklet
Welcome To Whistler Village & Valley Map Service Directory
Canada's First Peoples invites you to voyage across sea, land, myth and memory booklet
by Aboriginal Tourism Canada and Canadian Tourism Commission
Canada's North Northwest Territories – Enter To Win Ballot Card
Quick Facts about the 2010 Winter Games Card
Vancouver 2010 Folder Folio
Metro Vancouver Public Transport Guide by Translink (Buses, Skytrain, Seabus)
– includes guide and directions to venues and attractions.
2010 Metro Vancouver Transportation Map by Trans Link
A fold out map of Vancouver and surrounding areas – displays train seabus skytrain and bus routes for getting around during the games.
Official Visitors' Guide Vancouver 2010 by Tourism Vancouver
Includes a Special Section on the Vancouver 2010 Olympic and Paralympic Winter Games!
The Buzzer – pamplet published by translink – Friday, January 29, 2010
Tips Getting Around For The Games – Travel survival kit and list of many free Olympic events
Gold Rush in the Valley! – Parks Canada – Fort Langley / National Historic Site
Vancouver 2010 VVL Village Views (printed/photocopies)
January 29, 30, 31
February 1-7, 9, 11-14, 16-22, 24, 25, 27 and 28
March 2, 5, 6, 10-15
The Village (in full colour)
Premier Edition – Vancouver Februrary 4-28
– Your guide to an exceptional Village experience – contains full entertainment listings and more!
February 7
– Come see the first team Welcome Ceremonies in Whistler and Vancouver
February 19, 20, 25
March 12, 13, 16-19
The Village Vancouver 2010
Paralympic Winter Games
Whistler Entertainment Program
Artists and Performances with dates and times from March 6 – 21 including the Closing Night Party after the Closing Ceremonies
A Paralympics Vancouver 2010 Sticker – 5 inch square Sledge Hockey by Avery Graphics
An Official Spectator Guide for the Paralympic Winter Games March 10 – 21 2010
Two items that converted an olympics volunteers blue jacket for the paralympic games. A plastic velcro patch and a large logo cover that snaps on over the olympic rings.
There is also a plastic bag that is in pretty rough shape but it was in the box and so it was included in the picture.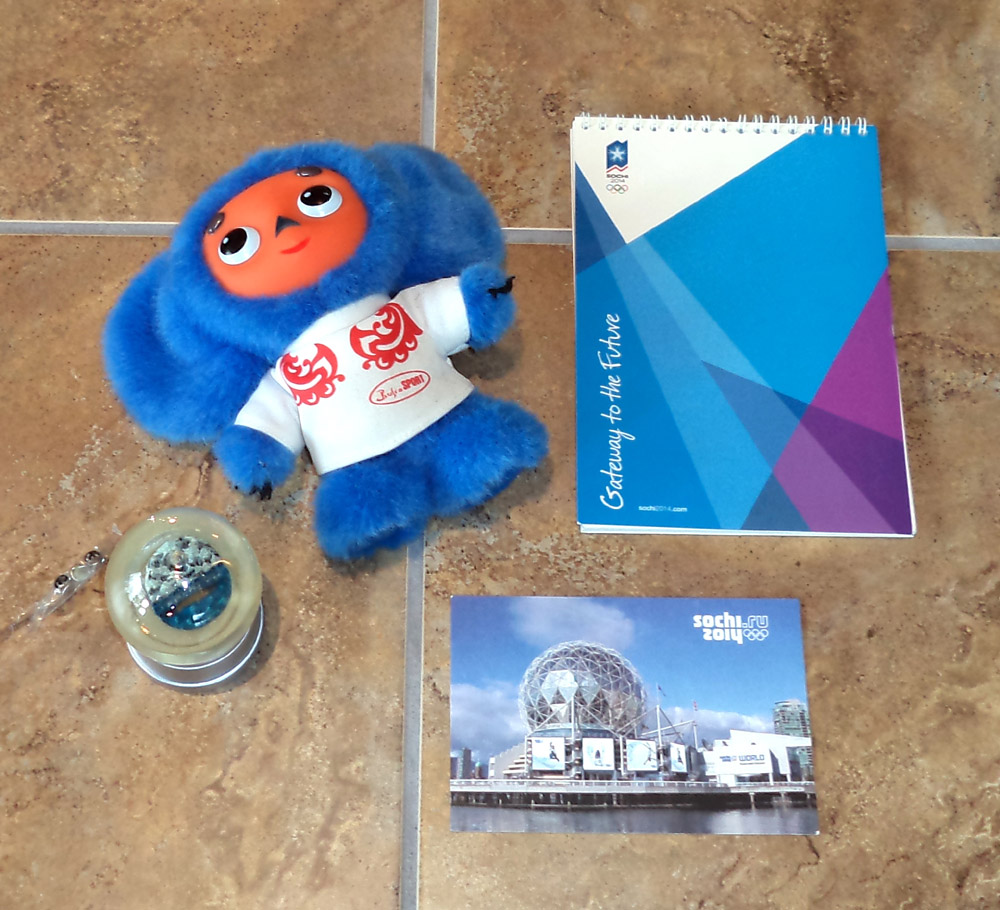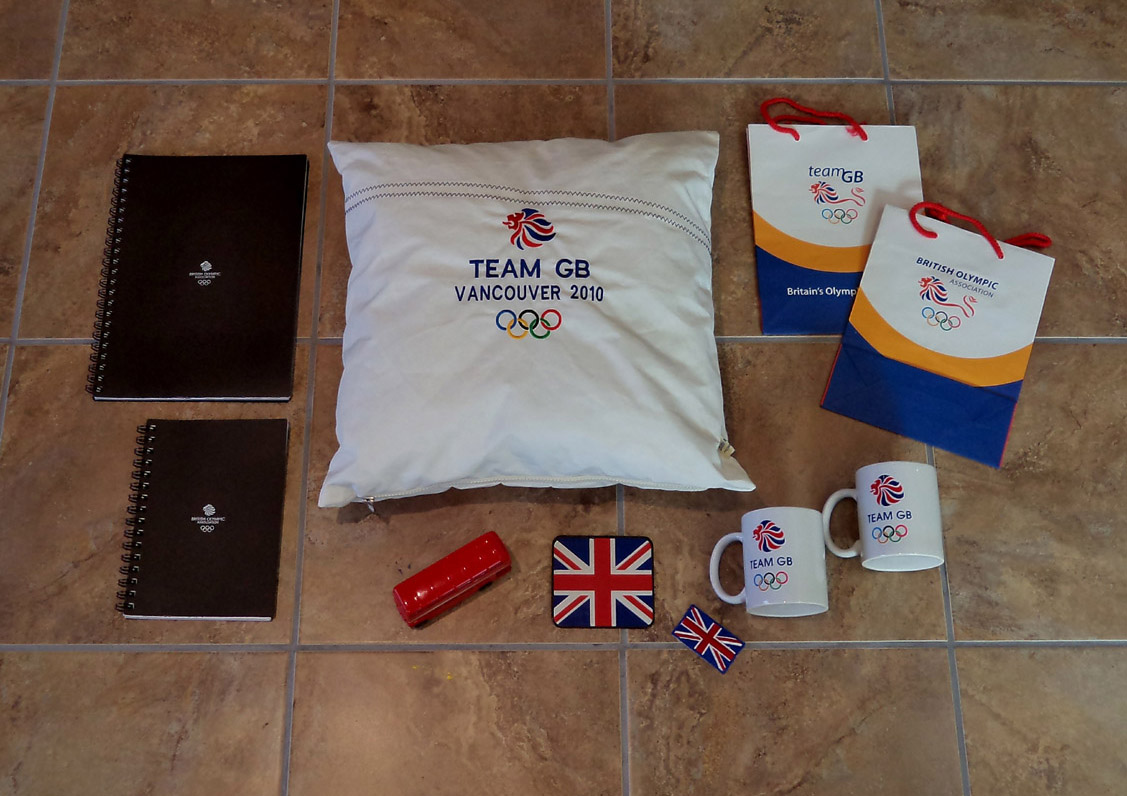 Team GB Vancouver 2010 square 16 inch pillow from the GBR lounge in the athletes village. There is a red and blue lions head icon with multicolour olympics logo on one side and a large red number one on the back.
Two paper British Olympic Association gift bags with red rope handles.
Two black plastic cover notepads with the British Olympic Association logo filled with blank lined paper.
One large 30×22 cm (11.75 by 8.75 inches) and one small 21×16 cm (8.25 by 6 inches).
Two Team GB Coffee Cup Mugs
A union flag coaster (sticker on cork) and a toy double decker bus. Both of these items are from the GBR lounge in the athletes village and show signs of use / played with.
There is also a union jack flag patch or crest that was a spare to be sewn onto an athletes kit if needed.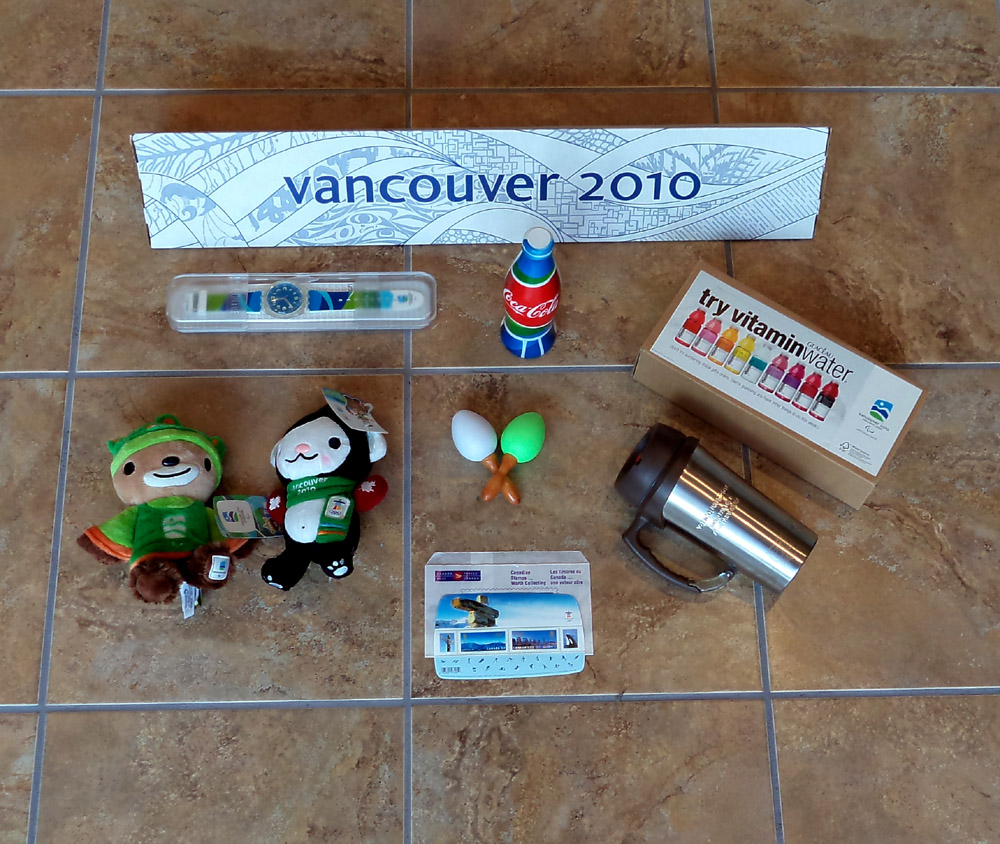 Athlete Swag Art Print in Triangle Box
Contains two prints of artwork by Corrine Hunt that was used for the design of the medals for both the Olympics and Paralympics
Volunteer issued Swatch Watch
Coca-Cola Torch Relay LED light up bottle
Athlete Swag Try Vitamin Water with One Full Bottle And An Umbrella In Box
Two Small Maracas (green and white) used during the ceremonies welcoming athletes to the Olympic Village
Canada 57 cent stamps Vancouver 2010 souvenir sheet
Vancouver 2010 Travel Mug With Locking Lid
Sumi Mascot 7.5 Inch Doll
Miga Mascot 7.5 Inch Doll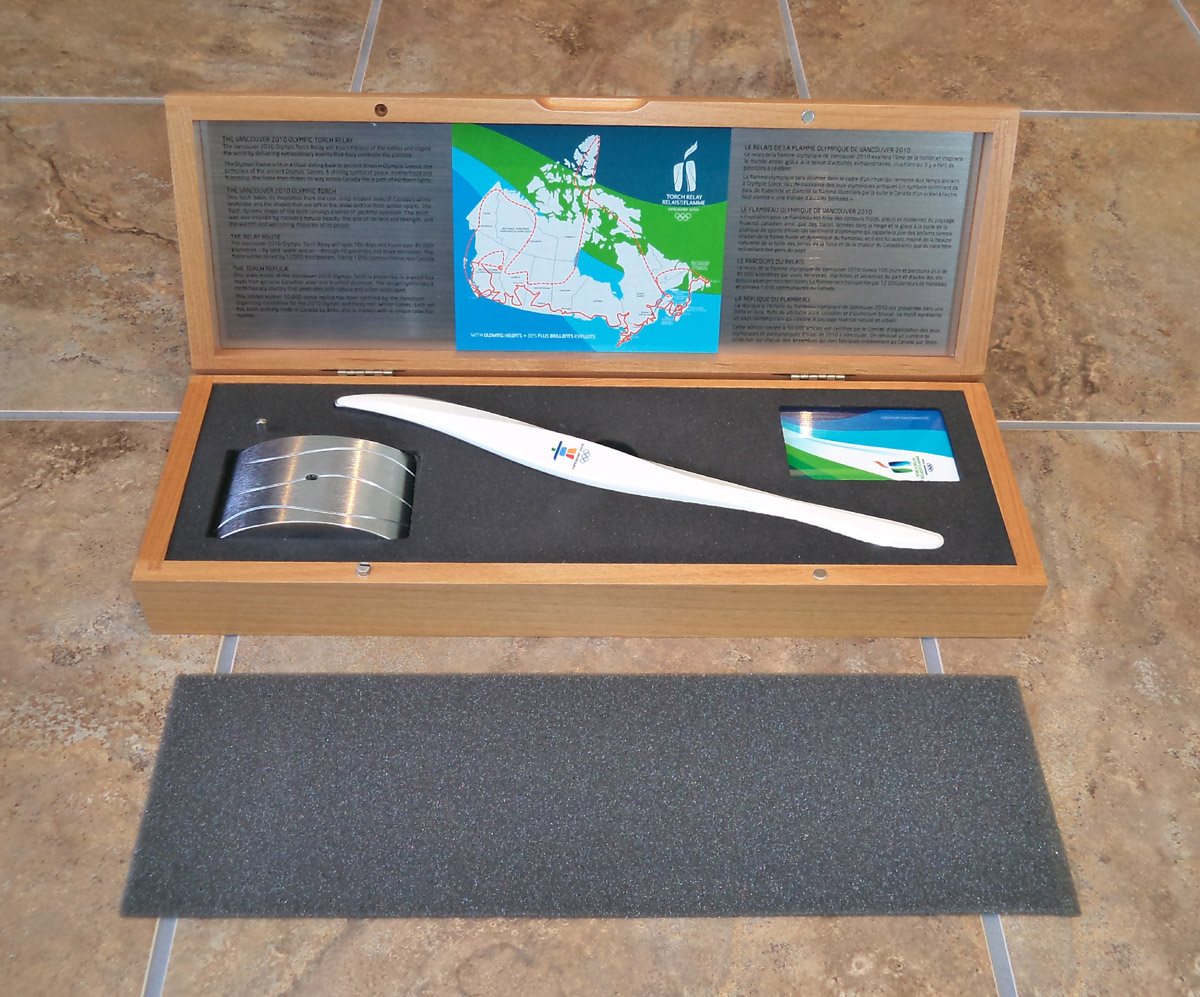 Comes in a wood and metal box with display stand and COA card
Box measures 16.5 x 5.75 x 2.25 inches
Torch measures about 12.5 inches (31 cm) high.
I am asking $1200 for everything shown in all 9 photos.
Interested in this item?
Contact me with any questions or if you need more specific details.
Please include your general location and we will provide you with a quote that includes the cost of shipping.